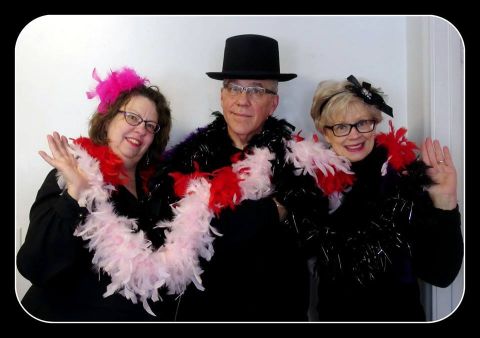 Music and more for your group! From Broadway to Country, with humor and even a bit of magic!
---
(Note:With COVID-19 restrictions, we've focused on preparing videos for use - here are some replies from people who received them.)
"Your sing-a-long video was a hit! Everyone loved it and it was great to hear them laughing and singing along with the video. I know how much work it is to put together music and recordings. Thanks so much for bringing some fun and entertainment to our residents."
A.P., The Pillars of Highland Park, St. Paul
"Thank you so much for sending this (and the ones in the past!). We are getting hopeful with the vaccine rate in MN that we will be able to have live entertainment in the very near future! What a year it has been! We really appreciate you taking the time to make these videos to help our residents! I will email you when we are cleared to have people in the building and hear you in person!"
H.N., Meadow Woods Assisted Living, Bloomington
"Thanks so much! I will play on our internal tv station, and I'm sure our residents and tenants will enjoy :)
Have a wonderful day; we appreciate you keeping us in your thoughts."
M.J., Lyngblomsten, St. Paul
"Thank you for thinking of us! We absolutely love any type of music that we are able to show on our in-house channel. Thank you so much!
Hoping for live music in 2021 again!"
M.L., Oak Meadows, Oakdale
"YOU ARE JUST THE BEST!
Thank you so so much for continuing to be there for our residents even when we're in these crazy times.
Thank you thank you thank you. "
S.A., Abiitan Mill City, Minneapolis
---
(And feedback from our in-person visits)
"Your heart is soooo big... Thank you for your generosity."
T.C., Abiitan Mill City, Minneapolis
"Just wanted to send another thank you for coming to see us today! The performance was so fun and the residents really enjoyed it. I hope you'll come back and visit soon!!"
S.A., Abiitan Mill City, Minneapolis
"Fabulous!"
A.S., Immunization Action Coalition dinner for employees and consultants
"Thank you....thank you....thank you for doing such an awesome program for our Lunch Bunch group on Wednesday. Everyone so enjoyed the program. You are all so enthusiastic and talented. I just can't begin to say how much I appreciated your coming out to our group. It was great to be able to spend a little time talking with you over lunch and we will look forward to your coming again."
J.K., Lunch Bunch program, Shepherd of the Hills Lutheran Church, Shoreview
"Our houses love your performances. I've heard nothing but great things. I always hear your praises after your visits!"
L.F., Rakhma
"Thanks so much for sharing your time and talents with the veterans!!"
B.C.P., Minnesota Veterans Home
"I am so happy that you were able to provide entertainment on the weekend for our residents. It means the world to me."
A.W., Gable Pines, Vadnais Heights
"Just a quick "Thank You" for coming to St. Anthony Park Home. I heard wonderful things about you from my assistant... Thank you so much for thinking of us. We would love to have you back again if your schedule allows.
L.A., St. Anthony Park Home, St. Paul
Places we've performed:
Abiitan Mill City, Minneapolis
The Alton Memory Care, Saint Paul
Cherrywood Pointe, Roseville
Deer Crest, Red Wing
EagleCrest, Roseville
Gable Pines, Vadnais Heights
Golden Living Lake Ridge, Roseville
Good Samaritan Society Heritage Place of Roseville
Langton Place, Roseville
Minnesota Veterans Home, Minneapolis
Oak Meadows, Oakdale
The Pillars of Highland Park, St. Paul
Rakhma Grace Home, Minnetonka
Rakhma Harmony, Golden Valley
Rakhma Joy Home, Saint Paul
Rakhma Peace Home, Minneapolis
Roseville Historical Society, Roseville
St. Anthony Park Home, St. Paul
Senior Leisure Center Partnership, Saint Paul
Shepherd of the Hills Lunch Bunch, Shoreview
Shores of Lake Phalen, Maplewood
The Wellington, Saint Paul
---